I have been told I haven't updated for awhile. Yes, I know.
I have no good reason. I just haven't.
But, today, I received an email from a very dear friend. She's going through some tough stuff.
I wish I could hug in her in real life, let her cry on my shoulder. But I can't.
Stupid geography and all that.
So, I'm hoping she reads this. And knows I love her. And I am
ANGRY
beyond measure that she's going through what she's going through.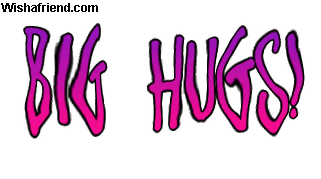 Free Glitter Graphics
,
Hugs Glitter Graphics